The best ash vacuums are typified by their large capacities, long cords, long hoses, and heat protection. But the top of the pile amongst them are those with thorough filter systems, the highest suction power, and the lowest power consumption.
Factors that Define the Quality of the Best Ash Vacuums
We did a market search for top-quality ash vacuums and tested out their functions. In our assessments, we paid attention to power consumption. We believe your utility bills shouldn't skyrocket because you're trying to make your home cleaner.
Besides power consumption, we held out for vacuums with HEPA filters or multi-filter systems. We had to ensure that whatever vacuum you use leaves your home spotless and does not leave your airways prone to irritation by ash particles. We also considered suction power. Besides helping you clean faster, strong suction power reduce the chances of fine ash particles flying all around while you're vacuuming.
Most ash vacuums in our review have large tanks, long cords, and long hoses. It wouldn't be convenient if the cord and hose limited the extent to which you can use the vacuum cleaner.
Last amongst our topmost consideration was heat protection. While testing the vacuums on fireplaces, we verified their heat tolerance. Our results showed that not every vacuum cleaner can handle hot ash as claimed. We took the risk with our vacuums, so you wouldn't have to.
10 Best Ash Vacuums – Cordless and Corded (2023)
The Vacmaster Pro was pretty impressive during our rounds of assessment. It's suction stood above what we experienced with the rest as it cleaned about the same amount of ash (100g of ash) as the others in half the time.
Besides the rapid cleaning facilitated by its impressive suction, I didn't have to worry about my nasal allergies flaring up because this time the volume of fine particles recoiling from within the vacuum cleaner was minimal.
We were able to cover a lot of ground thanks to the 10 ft. hose and 30 ft. cord. We surely didn't fill up the 8-gallon tank while checking this out. But for regular usage, it should hold up a lot of ash just fine.
We tried it out on warm ash and cold ash and the hose handled them pretty well. We cannot say for sure that it would handle hot ash the same way. The hose wasn't too flexible, but we think full on flexibility was sacrificed for some rigidity to enhance durability. Still, it was flexible enough for regular use.
While we do not think the Vacmaster Pro is anywhere near noiseless, it didn't produce excessive noise. At the least, it wasn't noisier than a kitchen blender. But then, the motor felt like it got hot too quickly. But that may have just been a one time thing peculiar to us.
If you are looking for a vacuum cleaner with very low power consumption, this might work but there are even better options. We must have consumed about 0.25 kWh of energy during the 10 minutes we tested the vacuum out. With the DEWALT 20V MAX Vacuum, the energy consumption for the same period was 0.03 kWh – more than 8 times lower.
Away from its operation, the design of this product is pretty ergonomic. While it isn't the lightest, the wheels contribute to its portability. Then there's that storage caddy at the back where you can place the extension wands and cord.
Pros
Impressive suction power
Long hose and cord length
Large tank
Fairly portable and easy to store
Cons
Not the lowest power consumption one can get from a vacuum cleaner.
The Craftsman CMXEVBE17596 is best for cleaning large amounts of ash. The 20 gallons of storage space is as impressive in reality as it is on paper. So, if you are a contractor, you may want to have this on your horizon.
We did a comparative suction power test for all the ash vacuums we tried out, and this one was pretty close to the strongest. It also did significantly better than the other vacuums.
While cleaning with it, the Craftsman CMXEVBE17596 held back a fair amount of fine dust particles, keeping them from escaping back into the air. But I had to use a mask while trying this out; we weren't too sure how effective the standard (non-HEPA) filter would be. In the end, it was quite okay.
With 20 feet of electric cord and 7 feet of hose, we were able to use this vacuum over long distances. We got over even longer distances when used it with the extension wands. There were other extensions, including a crevice tool, diffuser, and car nozzle.
When used without the muffler extension, this vacuum can be pretty noisy. But then, compared to the others, it isn't excessive at all; the noise is bearable. With muffler on, the noise is even more bearable. We'd say the muffler brings the noise level down, making it only as noisy as a washing machine.
This might not be the best you can get if you want a low-power vacuum cleaner. Running it for 10 minutes incurred about 0.24 kWh of energy. Of course, this isn't too different from the test product with the highest power consumption. So, if power usage trumps other factors for you, this might be significant.
Away from how we operated it, we could move it around easily thanks to the wheels. But packing it up for storage wasn't so easy. Then again, if you are using it as a contractor – at jobsites – you may not have to frequently pack it up for storage.
Pros
Very large tank
Powerful suction
Has an array of practical extensions
Features a muffler extension for reduced noise
Cons
Not so easy to pack it up for storage
The Powersmith ash vacuum may not be the largest or most powerful vacuum we reviewed. But from what we saw while testing it out, it should work fine for cleaning ash out of domestic heat sources like wood stoves, pellet stoves, and furnaces.
As we hinted in the review of the first two products, the suction power of the PowerSmith PAVC101 is not the strongest. But then, when we tried it out on around 100g of bone ash, it sucked it all in within reasonable time. This made us confident that it would definitely be a good ash vacuum for a wood stove or pellet stove.
The 3-gallon tank on this one might not be the optimal for jobsites and heavy ash cleaning. But for regular domestic cleaning like the ones we tried out, there shouldn't be any problem.
The filter held back ash particles to a high degree even though it isn't a HEPA filter. But then, as expected, it wasn't as efficient as a HEPA filter. We loved the fact that we could wash and readily replace the filter. But it seems like something that could readily get overwhelmed with large amounts of ash at a go. So, the limitation that comes with the small tank capacity might just be beneficial.
You may want to stick to cleaning warm and cool ash with the PowerSmith PAVC101. The filter felt somewhat tender after we tried vacuuming some warm ashes with it. So, even with a heat-resistant metal hose, there's a fair chance hot ash would do real damage to the filter.
With 16 feet of cable and 4 feet of cable, we got about 20 feet of roaming allowance. In a domestic environment, that should be more than enough. But even if that wasn't enough, the two extension pipes will surely get the hose there.
Bothered about noise? Well, this is probably not the loudest vacuum cleaner you'll come across. But then, it surely makes its presence known – its noise level is about the same as a kitchen blender.
There isn't too much positive or negative in the way of its power consumption. So, if you are not too bothered about that, then this is a good choice for an ash vacuum cleaner.
Lastly, this comes with wheels, so you can readily move it around. But the ease of storage could be better.
Pros
Optimal for vacuuming ash at home.
Sufficient suction for medium- to small-scale cleanups
Long hose and cable for free roaming
Easy to move around
Cons
Might not be able to handle hot ash
The Dewalt MAX Vacuum works best for small cleanups, not only because it offers a small 2-gallon capacity, but because it is also very mobile.
We were able to use it corded and cordless, thanks to the fact that it can run on battery and AC electricity. Part of the mobility we mentioned earlier comes from the possibility of going cordless with it.
Besides being able to use it without a cord, we could carry it around pretty easily. The light weight and top handle made this pretty easy for us. The small 2-gallon tank capacity is one of many reasons why it was pretty light in our hands.
The hose of the Dewalt MAX Vacuum is relatively short. In fact, none of the other vacuums had a hose that short. But then, since it is very portable, the length of the hose was not really a hindrance.
Cleaning with this vacuum did not leave us worried about filling the air with ash particles or clogging the vacuum. It sucked it all in pretty well, and we did not notice any particle escaping from the tank. We could easily just credit that to the HEPA filter. But the overall build is pretty well-sealed and that contributes to the efficient filtration.
We will not bother comparing the suction power of this device and the others in our review. Since it is best used for smaller cleanups, its suction power is restricted to such purposes.
While it might be pretty portable, the Dewalt 20V MAX Vacuum felt a bit noisier than typical. But then, this could also be because, while using it, it was closer to us than regular vacuums.
Since we knew it ran on batteries, the relatively low power consumption didn't surprise us too much. Initially, we imagined the potential costs of replacing the batteries when necessary. But since it can also runs on AC electricity, that may not be an issue.
Pros
Very portable
Efficient filtration
Dual power source
Low power consumption
Cons
The Loveless Ash Vacuum Cougar+ is the best for warm ash. When we tested it, there were no signs of tenderness, immediately and long after it drew some warm ash into it. So, if you are not willing to wait too long before cleaning the ash in your wood burning stoves, then you may love this.
The manufacturer mentioned that this product can handle some heat if you do mistakenly vacuum hot ash. So, we tried it out on some hot ash after letting it cool from the warm ash. True to their words, the heat did not damage the vacuum in anyway. But we got the sense that things went fine because we used a limited amount of hot ash. So, we do not advise that you use this one any volume of hot ash (small or large).
We didn't get the same level of air quality while cleaning with this vacuum cleaner as we would from one that uses a HEPA or ULPA filter. But the air quality was in no way bad, we had just seen better from some of the others.
When indoors, the 6ft. cable and 5ft. hose was enough for us to roam from the wall outlet throughout most of the living room area. But outdoors, the combined length only allowed us go so far.
From what we observed, the suction of this device is more than enough for us to classify it as a good ash vacuum cleaner for most domestic purposes. Be it a wood-burning stove, pellet stove, fireplace, or oven, you can get your cleaning done within minutes.
While it may have been promoted as relatively noiseless, we didn't really notice too much difference in the noise levels compared to the rest. So, don't hold your breathe about that.
We saw one of the lowest power consumption with this one. When we used it for a 10-minute period, the energy consumption was about 0.13 kWh.
One thing about the Loveless Ash Vacuum Cougar+ is that it has no wheels. So, moving it around isn't that easy.
Pros
Heat-resistant build
Low power consumption.
Decent suction power
Cons
With the BACOENG 5.3-Gallon Ash Vacuum, we experienced the most significant drop in noisiness. This is why we consider it the best for low noise amongst the products in our best ash vacuum reviews.
So far, we've described the others as being as loud as a blender or washing machine. But with this one, it felt like walking through a busy street – which is considerably better. It was loud, but you can hear your own voice while it works, especially when you speak up.
Mobility was not an issue for as we had at least 20 ft. of cord plus hose length at our disposal. Then being fairly lightweight offered us an extra advantage.
Vacuuming with the BACOENG Ash Vacuum was a breeze, not only because of the suction power, but also because of the HEPA filter. This was another one of those times when there was no need for me to worry about ash particles triggering my nasal allergies as they escape from the vacuum's tank.
With a tank capacity of 5.3 gallons, this vacuum is great for indoor cleaning. But we also used it as an external vacuum cleaner. So, small-scale or medium scale cleaning mostly.
From what we read from our meter, this cleaner added about 0.2 kWh to our electric bills in 10 minutes. To us, this may not be significant. However, we know there are options with lower power usage. In the end, you'll have to make a personal choice.
The product description may talk about it being able to handle cold ash, warm ash, and hot ash. But to ensure your vacuum cleaner stays in top condition, do not use it on hot ash.
Pros
Low noise
Efficient filtration
East to move around
Decent suction power
Fair amount of storage space
Cons
Cannot handle hot ashes as advertised.
Like the Shop-Vac 4041300, the filtration of the Shop-Vac 4041400 impressed us. We were able to get all the ash we used for the test in one sweep. We also didn't have to worry about inhaling some of the ash particles.
Besides the filter efficiency, the suction was quick enough. As with every other ash vacs we tested, we didn't have to wait long for this vacuum to clean out the test amount of ash.
While the BACOENG Ash Vacuum produced the lowest amount of noise, this comes close. We'd say it was only about as loud as a washing machine – of course, this is less noise than what you'd typically expect from a vacuum cleaner.
The 5-gallon capacity of the Shop-vac 4041400 works just fine for domestic cleaning. It should also be fine for moderate to large amounts of contract cleanings.
Offering a 4 ft. hose and a 6 ft. cable, we had a 10 ft. roaming radius with this product. It was fine when we used it indoors. But when we were outdoors, we needed an extension cord at some point. It would have been different if it could go cordless, but since it runs on AC, we couldn't use it without a cord.
Moving it around wasn't an issue for us though. Since it has wheels, all we had to was push. It might not be the easiest to store, but its accessories do not consume so much space. So, ultimately, storage wasn't a hitch.
We had one of the lowest energy use with this one. Over 10 minutes, we recorded an energy consumption of around 0.11 kWh. So, this should be a strong contender if you want something low-power.
Pros
Low power consumption
Efficient filtration system
Decent tank capacity
Easy to move around
Cons
The cord and hose could be longer.
For us, the standout feature of the Shop-Vac 4041300 was the fact that we could use it without a cord. Since it runs on batteries, we could move it around as desired. As such, we weren't limited by how far our wall outlet was from the point of cleaning.
When we tried to power it with AC electricity, we got around 10 ft. of radius (6 ft. cord and 4 ft. hose). Of course, because we could use it without the cord, the roaming radius did not seem impressive. But we'll take it still.
Beyond being able to use it without a cord, the suction power we got from it was more than acceptable. It didn't fall short of the other ash vacuums we reviewed.
The 5-gallon tank should do just fine for regular domestic cleaning and medium to large cleaning at jobsites. But then, the absence of wheels was a bummer. It wasn't an issue for us because we didn't suck in a lot of ash into the tank to make the vacuum heavy. But surely, when in real use, it may get heavy and having to lift a heavy vacuum everywhere is not the most comfortable option. Then again, the vacuum is fairly light. So, it wouldn't be excessively heavy.
With Shop-Vac 4041300, you may not have to worry about a spike in your energy bills. From our 10 minutes of use, we recorded an energy usage of around 0.13 kWh, which is pretty okay.
We were not too shocked to see how effective the filtration of this vacuum was. Since it uses a HEPA cartridge filter, we expected it and we were not disappointed.
Pros
Work with and without cord
Low power consumption
Effective filtration
Decent suction
Cons
Not easy to move it around when it's filled.
With the Porter-Cable Ash Vacuum, we had one of the lowest energy usage over 10 minutes. Our estimate for the said period was less than 0.1 kWh, which is very impressive. So, if you are out for something that wouldn't raise your electric bills, consider this one.
Away from power usage, the suction from this vac may not be the strongest, but for domestic purposes, it is more than enough. We were able to move it around readily, thanks to its lightweight. So, even though it has no wheels, we did not feel too much discomfort moving it around.
The 4-gallon capacity is not a problem if you will only use it domestically. But if you are a contractor who needs an ash vacuum for cleaning very large amounts of ash, you may consider something with a larger tank. Otherwise, this also works for medium-scale cleaning.
To some extent, the Porter-Cable 4 Gallon Ash Vacuum can handle warm and cold ashes. But using it for hot ash caused obvious damage. So, you might want to ignore any ad that says it can handle hot ash.
The dual filtration system did its job pretty well; alongside the decent suction power, the filters ensured that ash particles did not fill the air while we were testing.
Besides being effective at retaining and filter ashes, we liked how easy it was to remove and clean the cartridge and filter fabric.
For us, there was nothing unique about the noise levels coming from the Porter-Cable vacuum. It was pretty much like working with any other good ash vacuum.
Pros
Decent power suction
Lower power consumption
Budget-friendly.
Lightweight.
Cons
While we consider the Stanley – SL18116P the best budget vacuum in our review, it offers more than just a cheap price. In fact, the price takes nothing away from the overall quality.
Away from the top two products, we saw one of the best suction powers when we tried this out using our 100g of bone ash test. It wasn't the fastest for sure, but you would certainly not spend all day waiting for it to clear all the ash.
We believe the thank capacity is good enough for domestic purposes. It may also work in jobsites, especially when the volume of ash or dust to be cleared is medium to small-scale.
The filtration part of the Stanley – SL18116P was not too impressive. We noticed some particles escaping from the vacuum. But then, it wasn't something that could ruin its overall quality. However, it didn't look like the vacuum would clog at any time. So, overall, the filter did most of what it should.
The 10 ft. of electric cord and 6 ft. of hose combined to create a roaming range of up to 16 ft. This was more than enough while we were indoors. While outsider, we used an extension cord.
When it comes to operating quietly, this vac did not do better or worse than the rest. So, it isn't a quiet alternative. You can expect about the same loudness as the average ash vacuum.
While the Stanley – SL18116P was not the most energy-intensive in our tests, it isn't far from the top. Running it for about 10 minutes, we incurred an energy consumption of 0.2 kWh. So, if power consumption is a big deal to you, there are less energy-intensive options.
Besides being a ash vacuum, we were able to use it to vacuum liquids. But before doing that, we had to remove dry filter. We also used it as a leaf blower. So, for the price, this might just be a steal.
The price range of the Stanley – SL18116P is about the same as the Snow Joe Ash Vacuum. However, we picked it over the Snow Joe Ashj201 for reasons including its wheels (the absence of wheels in the Snow Joe).
Pros
Relatively budget-friendly.
Decent tank capacity.
Long cord and hose allow for roaming.
Cons
The filtration efficiency could be better.
Buyer's Guide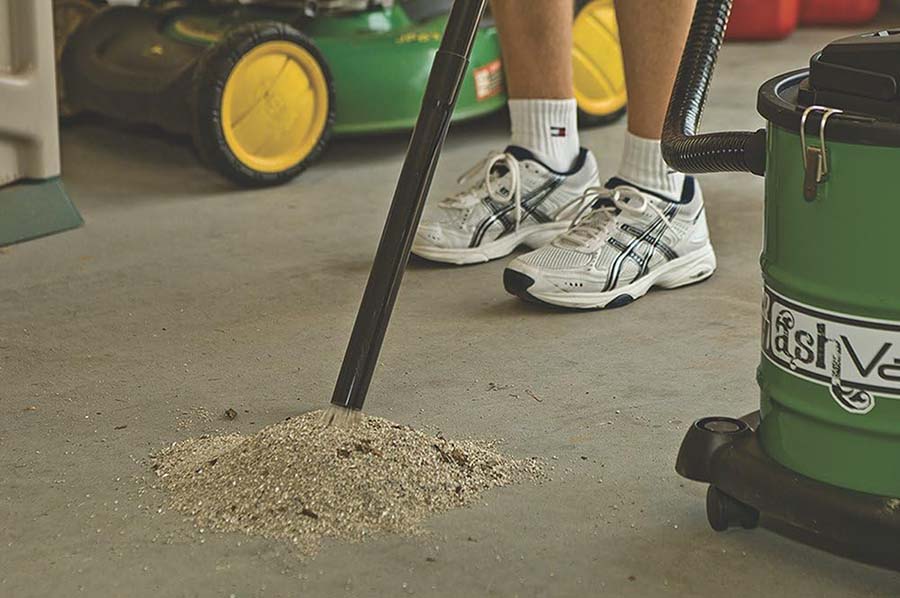 Filter Type
The best types of filters your ash vacuum can have is either an ULPA filter or a HEPA filter. Both types of filters are efficient at removing very tiny particles, down to 0.3 microns and smaller. So, with them, there's a very low chance of clogs. At the same time, there's almost no chance of ash particles escaping from the vacuum.
When you cannot find vacuum cleaners with HEPA or ULPA filters, you may try out those with multi-filtration systems. Still, prioritize HEPA and ULPA filters.
Power Consumption
The wattages of ash vacuums vary widely. Some consume as little as 200 watts while others consume as much as 1800 watts. If you're apprehensive about your ash vacuum or stove raising your energy bills, you should pay attention to the power rating of the ash vacuum you intend to buy. You can even estimate how much energy the ash vacuum will consume monthly.
For instance, if you buy a 500-watt ash vacuum, and you use it for 5 hours every month, the ash vacuum will consume about 2.5 kWh of energy every month.
Power Source
While many vacuums run on AC power, some run on batteries and AC. If you want the flexibility that comes with having multiple power sources, you should get one of those that run on batteries and mains electricity.
Typically, vacuums that can run on electricity can go cordless. Operating your vacuum without a cord enhances portability; you are not limited by the proximity of a wall outlet.
Motor Horsepower and CFM Rating
The motor horsepower and CFM rating of your ash vacuum can be an indicator of the vacuum's suction power. Generally, you can expect that vacuums with higher horsepower and CFM ratings will have stronger suction. Then again, you may have to test the vacuum to truly vet its suction power.
Tank Capacity
If you intend to use your vacuum cleaner for domestic cleaning only, then most tank capacities should work for you. But if you'll use your vacuum for work, go for vacuums 4-5 gallons or higher.