We're taking an in-depth look at two of Weber's fine grills, the Q2000 and Q2200. These grills are popular and perform better than expected for grills in the compact class. Many people ask about their durability, performance, size, and quality.
During our comparison of the two grills, we'll include important information that will help you make your decision about which model suits your needs. Both models have so much to offer! After you read the overviews and study the details, you can make the right decision for your needs.
What type of grills are the Weber Q Series?
The Weber Q2000 and Weber Q2200 are compact gas grills that use small, disposable propane gas tanks for fuel (not included) and come out of the box ready to use with no assembly needed. You can also hook them up to a LP tank using an adapter. Portable LPG grills are perfect for events outdoors, camping trips, or any other place where you need to grill dinner!
These grills boast the same cooking area of 280 sq. inches that holds up to eleven nicely shaped hamburger patties on their porcelain-enameled cast-iron grates. The grills look almost identical but the Q2200 carries a little more weight and girth, with additional features we discuss here.
Comparing the Two Grills
One of the nice features of the Q series 2000 and 2200 grills is they're small enough to carry from the trunk of the car to the picnic table for quick setup and a great time grilling on a moment's notice.
Overall Size
The Q2000 overall size is 26 in. high x 51.4 in. wide x 24.3 in. deep. Note these measurements include the lid open and both tables out. The overall size with the lid closed and tables out is 14.5 in. high x 51.4 in. wide x 19.5 in. deep.
The Q2200 overall size with the lid open and both tables out is 26 in. high x 51.4 in. wide x 25.1 in. deep. Note this model is slightly larger than the Q2000.
Cooking Area Size
Both Q series grills have identical 280 sq. inches of cooking area large enough to cook for 2-4 people. For perspective, the grates hold up to eleven normal size burgers, or 2 steaks, or any combination of burgers, steaks, dogs, or chicken, for example. If you can grill it, you can do it here! (No, you can't roast a pig).
Fuel Source
The Q series 2000 and 2200 both use disposable 14.1 oz. or 16.4 liquid propane cylinders (sold separately). Want more fuel capacity? It's easy to fit your 20lb propane tank to either grill with an adapter hose available here.
Additional Features
As if I haven't already bragged enough about these tough little grills, Weber takes their offering of the Q Series up another notch with some nice features that make either grill a better product to own compared to the competition.
Weber Q2200
Porcelain-enameled, cast-iron cooking grates
1 Stainless steel burner rated at 12,000 BTU/HR
Electronic ignition (continuous spark)
Aluminum cast body and lid
Built-in lid thermometer
2 larger folding side tables
Glass reinforced nylon frame
Removable debris pan
Infinite control burner valve with smooth, precise flame adjustment
Weber Q2000
Porcelain-enameled, cast-iron cooking grates
1 Stainless steel burner rated at 12,000 BTU/HR
Push-button ignition (single spark)
Aluminum cast body and lid
2 folding side tables
Glass reinforced nylon frame
Removable debris pan
Infinite control burner valve. Smooth, precise flame adjustment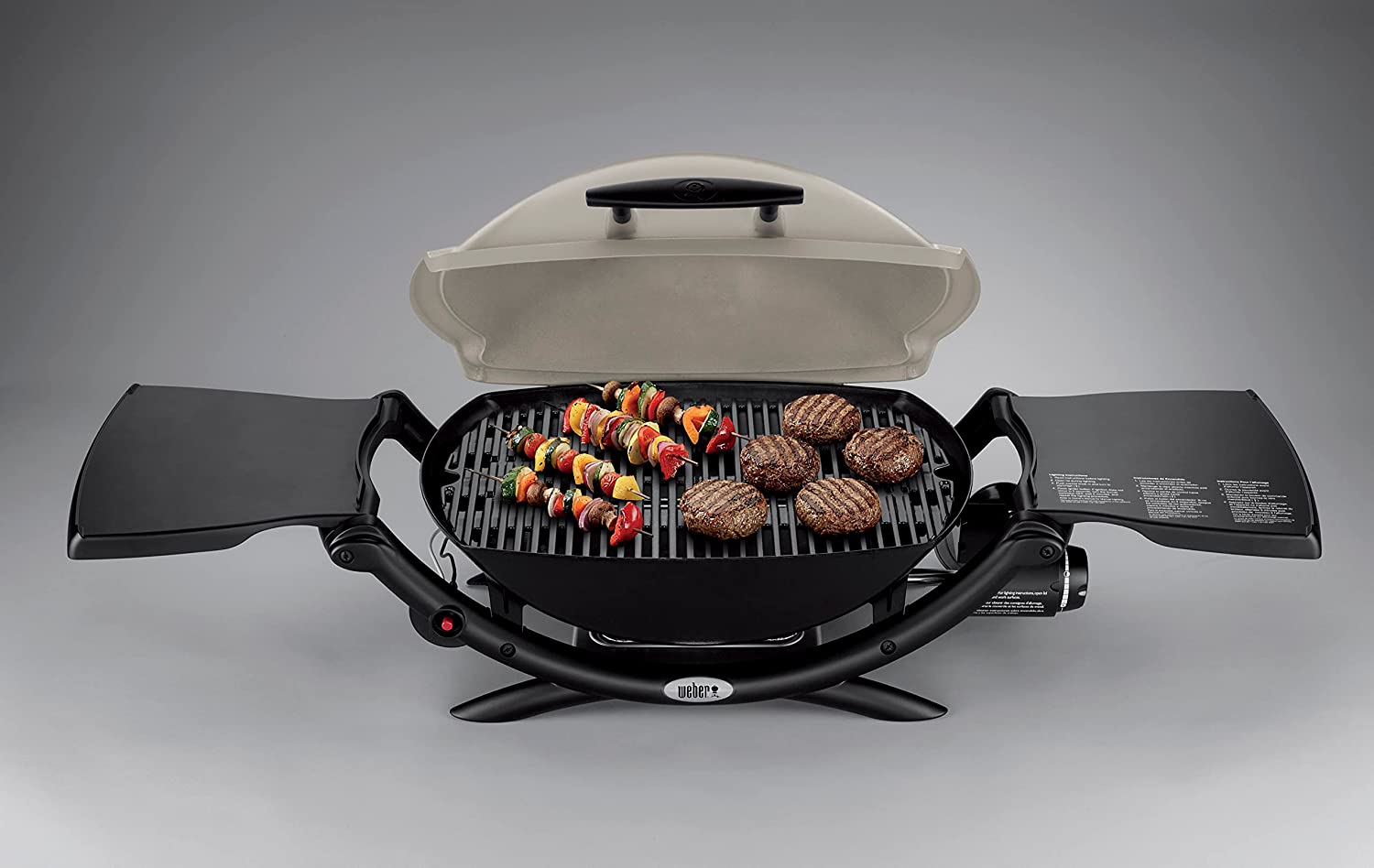 Weber Q2000 Overview
At first glance of the Q2000, you might think you're looking at a Q2200. They look almost identical and, in fact, they look very similar. The differences might get overlooked, but first I'll discuss what's the same and then what's different.
The cooking area is the same, as well as the burner and the grates. Also, the Q2000 is slightly smaller and lighter, but it's hardly noticeable. One item that's missing on this model is the lid thermometer. Some people say it doesn't matter, and I have to agree. If I'm grilling steak, for example, I've learned from experience how long too cook them to get that perfect medium-rare.
I know many of you get spoiled by electronic ignition. It's nice to have, but it's not a deal-breaker by any means. A Piezo igniter works just fine as long as I keep the grill clean with no obstruction for the spark.
Overall, the Q2000 is still a fantastic compact portable grill with the features you need for a great experience. Don't let the fact that the only thing missing is the lid thermometer change your mind about this grill. Weber quality is most important, and it's all there in the Q2000.
Weber Q2200 Overview
Weber's Q Series 2200 portable grill makes grilling on the go simple and a lot of fun. It's fun because you don't need to deal with the pain of charcoal and the filth that comes with it. Also, Weber decided that their grills have to perform better than the average grills out there. I don't worry about my grill falling apart after only one season of use.
My Q Series 2200 has a large and wide-open 280 sq. inches of space. And what's great is none of that area is blocked by hinges and cast cutouts that take up precious cooking space. Speaking of space, Weber matched the 12,000 BTU/HR burner perfectly to the size of the grill.
The burner heats the porcelain coated cast iron grates evenly so I don't have to worry about over-cooking the food. And all of it cooks evenly. I know from experience that cheaper grills have multiple hot spots when they're new, and it only gets worse after more use.
From a quality perspective, as in how long my grill will last, it's a matter of understanding how to use it, and just as important, how to clean it and prevent hazards. It's a durable grill, but you have to learn how to take care of it.
The burners are stainless steel, so you know they're not second-rate parts. They cast its body in aluminum for lighter weight and durability. Because it's so sturdy, I can feel the quality when I used it on the road at a roadside park or outside on our porch using the optional rolling grill cart.
With the addition of a lid thermometer, electronic ignition, and the infinite control gas valve make the Q2200 hard to beat. I also like the sloped body that allows grease to flow directly to the removable grease cup mounted underneath.
Conclusion
If you want a portable grill capable of grilling a perfect meal every time, the Weber Q Series Q2000 and Q2200 represent a very well made product that performs as advertised. Weber quality and workmanship show clearly in how each part fits and functions.