Welcome to the magical world of cooking in chiminea! Imagine cooking a crispy, golden brown chicken breast or a delightful pizza inside a clay chiminea using a pizza stone or a cast iron pan.
The smoky flavor is unmatched! The heatproof gloves are on, the hot coals are glowing in the fire pit, and the heavy-duty aluminum foil is ready. All set to start a wood fire for the delicious meals we'll create.
Whether it's roasting marshmallows or baking bread, every dish cooked inside a chiminea has a unique crisp flavor. It's a versatile cooking method designed specifically for different foods.
You can cook almost anything on a built-in grill or open flame, not just a wood fire. So, let's heat up the grill rack and explore the enchanting journey of cooking in chiminea.
Introduction to Cooking in Chiminea
A chiminea is a fire bowl with a stack. You can use it for cooking. Clay chimeneas or cast aluminum ones they're perfect for small gardens. Got a solid base and enough room? It's time for cooking in chiminea.
What is a Chiminea?
A chiminea is an outdoor oven. Some are made from clay, others from metal. Cast iron chimineas can stand more heat. You fill them with wood or hot coals. They're perfect for cooking food with intense heat.
You can cook pizza inside a chiminea. You'll need a pizza stone. Or bake bread using a cast iron skillet. You can cook chicken, meat, vegetables, even fish. Every dish gets a smoky flavor. The heat inside a chiminea cooks food just right.
You can also use a chiminea for grilling. The grill over the fire bowl makes a hot surface. It's perfect for dishes that need high temperatures.
Cooking in a chiminea is easy. Start with a sand bed. Add treated wood or hot coals. Check the temperature inside. Then start your cooking. A chiminea for cooking is a fun adventure. Try it in your small garden today!
The Beauty of Outdoor Cooking with Chimineas
Cooking outdoors with a chiminea is a joy! It's like having an oven and grill in your garden. You can cook anything from pizzas to veggies in it. Want smoky flavored dishes? A chiminea is your best bet. Plus, it's fun to use a chiminea. And the best part? Your food gets a tasty, crisp flavor.
The Smoky Flavor and Crisp Flavor of Chiminea for Cooking
Imagine a pizza cooked inside a chiminea. You've got your pizza stones. You've added the cheese. The wood fire burns hot.
The chimney stack funnels the smoke. The heat cooks your pizza to perfection. The result? A delicious, smoky-flavored pizza with a crispy crust. The same goes for any meat or vegetable dish. Add a splash of olive oil and let the chiminea do its magic. Every bite will be a treat.
How to Start Cooking in a Chiminea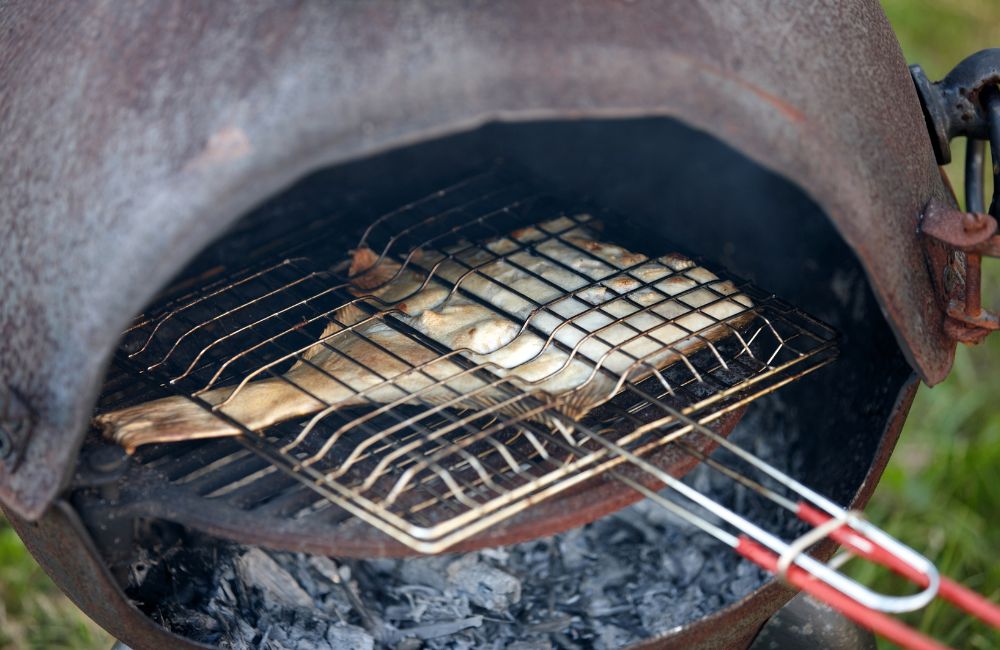 First things first, you've got to start a fire. This is where the fun begins. There are several cooking methods for chimenea cooking. Whether it's cooking inside or grilling, the start is always the same.
Creating a Safe and Effective Fire in Your Chiminea
To start, you'll need wood. Hardwood is the best. Make sure you have enough. One bag should do it. You'll also need a fire starter. Got those? Good.
Now, place your wood inside the chiminea. Arrange it so there's room for air to circulate. This helps the fire burn better.
Then, light your fire starter and place it under the wood. Let the wood catch fire. The chimney stack helps pull the smoke up and away.
Once the fire's going strong, it's time to start cooking. Use a pan for foods like potatoes. Or, put your food directly on the grill. The heat from the fire will cook your food. Keep an eye on it, though. You want your food cooked, not burnt!
Remember, safety is important when using a chiminea. Never leave it unattended. And always make sure the fire is out before you go inside. Happy cooking!
Delicious Meals You Can Create with a Chiminea
A chiminea is not just a beautiful addition to your garden or outdoor wooden deck. It's a versatile cooking tool! With a chiminea, you can cook various meals that taste great.
Pizza, Bread, and More: The Versatility of a Chiminea
Cooking inside a chiminea gives food a unique, smoky flavor. It's fantastic for pizzas.
The intense heat and a pizza stone give you a crispy crust that's hard to beat. Just add your sauce, cheese, and toppings, then let the chiminea do its magic.
Bread cooked in a chiminea is another delight. The crust becomes crispy, and the inside stays soft. Potatoes, too, come out beautifully cooked. Just wrap them in foil and place them near the chiminea stack. You'll have perfectly baked potatoes with a unique smoky twist.
Even vegetables taste different when cooked in a chiminea. The high heat and the smoke give them a flavor that no oven can replicate.
Chiminea Cooking Accessories for a Better Outdoor Cooking Experience
Having the right accessories can make cooking in a chiminea even better. They can help you control the heat, handle the food, and clean up afterward.
Using Cast Iron Pans and Pizza Stone in Your Chiminea
Iron pans are great for chiminea cooking. They can withstand the high heat and distribute it evenly. This helps your food cook evenly. An iron pan is versatile in chiminea cooking, from vegetables to meat.
A pizza stone is another must-have accessory. It absorbs the heat from the chiminea and then evenly distributes it. This results in a perfectly cooked pizza with a crispy crust and melted cheese. Just make sure to preheat the stone before you put the pizza on.
Remember, a metal chiminea can get very hot. Always use heat-resistant gloves when handling pans or stones. And never leave your chiminea unattended while cooking. Enjoy your chiminea cooking experience!
Essential Safety Precautions When Cooking in Chiminea
Using a chiminea to cook is fun, but safety is key. Cooking inside a metal chiminea can get hot. So, it's essential to be careful. Here are some safety tips.
Never Leave Your Chiminea Unattended
Never leave your chiminea alone while cooking. The fire can grow fast. It might cause trouble if left unchecked. Always keep an eye on it.
Be careful when you cook. Use tools to handle food on the grill. This keeps your hands safe from the heat.
Remember, chimineas are not just for cooking. They also provide warmth. But they can be dangerous if not used right.
So, always be safe. Watch your chiminea when you cook inside. This way, you'll have fun and stay safe. Enjoy the experience of cooking in chiminea. It's an adventure every time!
Conclusion: Elevate Your Outdoor Cooking with a Chiminea
Chiminea cooking is fun and exciting. It's a new way to cook. And it's not just for experts. Anyone can use a metal chiminea to cook delicious food.
The smoky flavor it gives food is unique. It turns simple meals into special ones. So why wait? Get a chiminea, start a fire, and cook something tasty today. Remember always to keep safety in mind.
Happy cooking with your chiminea!