Having a strong build characterized by thick bars and tough materials is what often separates the best fireplace grate from the rest. But the shape, weight, number of bars, and type of a fireplace grate are also huge factors.
What We Considered When Choosing the Best Fireplace Grates
When choosing the fireplace grates for our review, we prioritized thickness. We went in search of the fireplace grates with the thickest bars because of their durability and heat retention. But while looking out for thickness, we ensured the surface area of those bars were kept at a minimum.
Besides thickness, we paid attention to the construction material of the fireplace grates and baffle plates. While steel is the more common option, we had to include cast iron grates and wrought iron gate because they do better when coal is used as fuel.
Whether cast iron or steel, when the build is quality, they would do just fine. But then, if weight is a consideration, you may want to opt for steel fireplace grates since they are generally lighter than cast iron grates of fairly equal quality.
The bars of the fireplace grates in our review mostly had a V-shape. The V-shape is pretty common because of how it promotes efficiency with space and how it can be a safety mechanism for the burning fuel.
We paid attention to the number of bars on each fireplace grates. In most cases, we opted for those with 5 to 12 bars because with more bars, the heating experience is often better. But then, we also included some with fewer bars because those ones offered some other special features.
The 8 Best Fireplace Grates Reviews and Buying Guide
Choosing the Pleasant Hearth as the overall best was pretty easy for us. Before we even tested it out at all, the signs were already there – the thickness, length, and number of bars already told the story we wanted to hear.
Since it is made of steel, we had no reason to worry about its heat resistance. Afterall, we only tried burning logs on it and those rarely burn hotter than 800℉. So, we didn't have to pay too much attention to heat resistance.
However, we did check out the welding joints for durability. We did a visual inspection first. Then we tried pulling the welded parts apart. In both cases, all looked fine.
The 0.75 inches of thickness with minimal surface area is amongst the best of the fireplace grates we tested. That thickness coupled with its 8 bars ensured we got a lot of heat while burning logs in minimal amounts.
Beyond that, this steel fireplace grate has a V-shape, which allows us to burn wood in large amounts. But because this was just a test, we only worked with a few logs. We also loved the V-shape because it kept the burning logs from rolling. It gave us more confidence while using it.
Measuring 30 inches in length and weighing 30.2 pounds, the Pleasant Hearth is the largest in our review. This would be great if you need serious amounts of heat in a spot where you wouldn't have to move it regularly – say you use it in an outdoor fire pit. Otherwise, it isn't very portable.
Since this fireplace log grate has no retainer, it might only be great for wood burning. It may not work for regular-sized coals. It may work for larger-sized coals for a while. But as the coals gets smaller while burning, they'll eventually drop out this fireplace grate from between the steel bars.
You'll get about 4 inches of clearance above the hearth, so cleaning wouldn't be hard at all.
Pros
Efficient fire production
The retention is impressive, thanks to the thick bars.
V-shaped for safety and larger surface area to contain more wood.
Sturdy construction
Easy to clean
Cons
Wouldn't work so well for coal burning
Might be too heavy to move around. But that wouldn't be a problem when used for an open wood burning fireplace.
The Amagabeli Black Fireplace Log Grate has thicker bars than all the steel fireplace grates we checked out. So, choosing it as the most durable was a no-brainer. But then, the reason for its durability contributes a bit to why it isn't the most heat-efficient option.
The steel bar grates of this product are shaped like a kite, measuring 1 inch by 0.75 inch. While this means they are pretty thick, it also means they have slightly more surface area than the others within the same range of thickness. While we did not feel too much difference in the heating compared to the other steel fireplace grates with similar thickness, we are confident the difference in surface area will become a factor with time.
All in all, we still experienced efficient burning from this one. The use of 7 bars in its design certainly contributed to that. But that surface area factor may eventually rear its head.
We checked out its welding joints visually and by pulling the parts apart with our hands. In both cases, all went well. So, as we adjudged, this product is pretty durable.
Like the first fireplace grate we reviewed, the Amagabeli Black is V-shaped. While we didn't try to load it with too many logs, it was pretty obvious it would hold more.
It didn't feature an ember bed and its design is not mesh-like. So, if you want a fireplace grate that can burn coal, this may not work for you. But if you are only out for a grate for wood stoves, you should add this one to your shortlist.
Measuring 21 by 12.5 by 7.5 inches, this would only fit into fireplace measuring at least 24 by 15.5 by 10.5 inches. So, ensure your fireplace is big enough.
The Amagabeli Black is not the lightest amongst our best fireplace grates. But then, 20 pounds isn't too heavy either. So, whether you are using it in an indoor or outdoor wood burning fireplace, getting it around shouldn't be too much work.
Offering up to 4 inches of clearance above ground, cleaning this steel fireplace grate was somewhat easy for us. Whether sweeping or vacuuming, we didn't have too much issue reaching the ash.
Pros
Very durable
Efficient burning
V-shaped design helps ensure safety as it keeps logs from rolling over as fire burns
Fair level of portability
Cleaning is easy
Cons
Not suitable for burning coal
The bars have more surface area than necessary.
The Innfinest Fireplace Log Grate is one of the best steel grates we laid our hands on. Talk about heat retention, heating efficiency, safety, and durability; it ticks all those boxes to more than decent degrees. In our review however, it stands out because of its high clearance.
With a clearance of 4.25 inches, this fireplace grate certainly keeps logs off your fireplace floor, keeping the fireplace from getting damaged. But more importantly, this high clearance promotes air circulation, which makes for better combustion.
For us, the high clearance was a major factor in the impressive heating of this fireplace grate. But besides that, the thick bars coupled with a relatively minimal surface area played their parts in the high heating efficiency.
Besides making combustion better, the high clearance made cleaning easier. We could have cleaned out our fireplace without taking the grate out. But since we had to test others, we did.
We saw a shorter duration of heat retention with the Innifinest Fireplace Log Grate. We attributed that to it having just 6 bars. But then, the difference was almost negligible. So, we do not think it takes much out of the heating quality.
Like the other V-shaped fireplace grates, this product secures burning wood in place. But besides that, it maximizes the space available to burn wood.
Of course, we tried to pull the bar from the stands to verify the integrity of the welding joints. Thankfully, the welding joints resisted pretty well. We also checked for holes in those joints as part of our visual check.
This 23-inch steel grate should work just fine in a standard size fireplace. Still, you should confirm the dimensions of your fireplace and ensure it is at least 3 inches taller, longer, and wider than this product.
Weighing in at around 24 pounds, this was the second heaviest amongst the fireplace grates we assessed. But even at that, moving it around wasn't difficult at all.
This fireplace grate wouldn't work if you intend to burn coal. It does not have a steel mesh or any type of mesh to retain coal.
Pros
Highly efficient combustion, thanks to the clearance
Fair heat retention
Easy to clean
V-shaped, so it maximizes space while ensuring burning embers stay in place
Cons
Impractical for burning coal
Could be lighter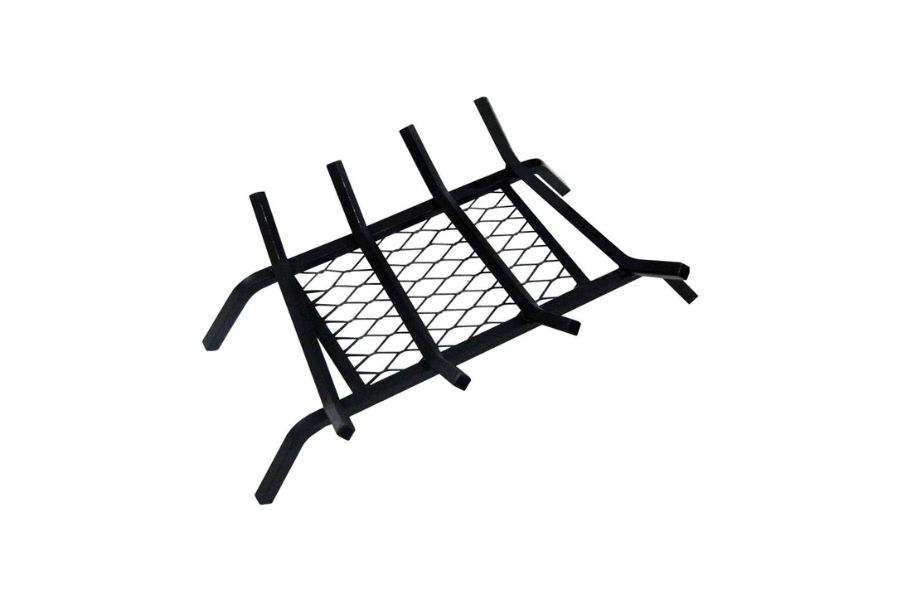 For us, the standout feature of the Landmann 9718S4 was its zero clearance. We were able to try it out in various spots because of this. So, if there's any structural limits in the way of your getting a fireplace grate, this might be a good option.
Besides allowing for flexibility of installation, this zero clearance fireplace grate is pretty heat efficient. From what we observed, the self-insulation contributes immensely to this.
The heat retention – and heating efficiency by extension – may have been even better if the bars were thicker and more than four. We saw a significant drop in heat retention compared to the other three fireplace steel grates we've already discussed. But considering the bars are only 0.5 inches thick, it wasn't too surprising. Overall, we think it still produced more than enough heat.
As with the other V-shaped fireplace grates, this offers space efficiency and safety. But beyond the V-shape, the ember retainers this came with ensured that burning embers remained in place.
While the manufacturer clearly states that the Landmann 9718S4 is only for wood logs, we tried it out with some coal. The results were okay. But if you are not sure of the precautions to take, we do not advise you try it.
Of course, as with the others the bars were well-welded. So, there's nothing to worry about in that direction. However, the ember retainer was somewhat tender after we burnt wood in it for about 20 minutes. This might just be something peculiar to us. Then again, we didn't burn the wood long enough to be able to give a conclusive verdict. So, we'd just advise you be on the lookout.
Moving this around was pretty easy. But for something that weighs only about 6 pounds, it was expected. If you intend to move your fireplace grate around frequently, doing so should be pretty easy. Weight aside, if your fireplace is smaller than usual, this 18 inches fire grate might just work for you. But as we've mentioned before, confirm the measurements.
Pros
Zero clearance
Efficient heating
Features an ember retainer
Very lightweight
Cons
Could be sturdier
Not recommended for coal by the manufacturer
Unlike most fireplace grates we assessed, we were able to use coal as fuel on the Rocky Mountain Goods Cast Iron Grate. This was all thanks to the steel mesh. So, if you do not intend to use only wood as fuel for your fireplace grate, you'd love this.
As far as cast iron grates go, one would expect this to come in one piece, not welded. But it was welded, so we had to check the welding joints out. We tried pulling the parts apart, and we also inspected them visually. Thankfully, the joints were all good.
The heating indices here were within the alley of the product in the previous section. So, while they were good, they weren't the best we've seen. Of course, seeing the product's specifications, we knew to expect what we experienced.
Having 5 bars and a thickness of 0.5 inches per bar didn't leave us too optimistic. But then, we're sure the ember retainer raised the output above what we'd expected.
Besides being the main factor behind the drop off in heat retention seen in this cast iron fireplace grate, the thickness takes a chop off its durability. But then, if you are looking to use your grate infrequently, then it should be just fine.
As with the others, the bars of the Rocky Mountain Goods Fireplace Grate comes in a V-shape. So, they can take more wood in less space, and they can help prevent fire hazard by keeping burning wood in place.
As far as cast iron grates go, this one is pretty light, weighing around 8 pounds. While this is good for portability, it may not be as durable as heavier cast iron grates. Then again, with infrequent usage, this wouldn't be a problem.
Pros
Lightweight
Works for wood and coal
V-shaped
Comes with an ember retainer for cleaner, safer burning.
Cons
It could be sturdier.
The heat retention could be better.
When it comes to heating efficiency and heat retention, the Fire Pit Grate – 23 Inch Fireplace Grate excels over the rest. The heating experience was visibly better for us, when we used the same amount of firewood as the other fireplace grates.
We attributed the high heat retention and heating efficiency to the high number of bars and the thickness of the bars. So, in some ways, we expected it. The 9 bars is the highest amongst all fireplace grates we checked out – be it cast iron, wrought iron, or steel construction. Then the 0.75 inches thickness also matches the best we reviewed.
Apart from the thickness and number of bars, the shape of the bars also plays a part in the heating. Unlike the other fire grates, this product uses round bars, which have a relatively lower surface area. Like we've said before, the lower the surface area, the slower the heat loss.
Besides promoting heat retention, the thickness of those bars were reassuring. We tried overloading the grate with logs to see how it holds, and it did just fine. Then we checked the welding joints and tried pulling them apart, simulating regular conditions, and they were all okay.
As with the rest the Fire Pit Grate – 23 Inch Fireplace Grate has V-shaped bars. But the upward curve of the bars are not as angled as the rest. So, we didn't quite enjoy the same level of space efficiency and security we got with the other V-shaped fireplace grates.
When it comes to size and shape, this grate is neither too big nor too small. Weighing about 19 pounds, it may be more suited for infrequent usage or for use in a fixed position. But, all in all, moving it around shouldn't be an issue.
There's no ember retainer in this fireplace grate. So, if you were hoping to use coal as fuel on it, that may not work. You may also have to make provisions for keeping your embers off the hearth since the 2 inches of space between the bars may not be enough.
You get a clearance of 3 inches above the ground with this one. While it isn't the best, it still did more than enough to promote a rich combustion process for us.
Pros
High heat retention
High heating efficiency
Low surface area – slow heat loss
Durable build
Cons
The V-shape could be more acute.
If you are looking to get your fireplace grate on a budget, the Hi-Flame Log Grate Heavy Duty Steel might just work for you. Away from the price, this grate is pretty portable; you are unlikely to have any issues placing it in your fireplace. It weighs about 8 pounds, making it one of the lightest. Then it is only 13 inches – none of the others had smaller dimensions.
When it comes to heating, this did not give us the best experience. The heating efficiency and heat retention fell short of the rest. But then, it's performance was still above standard.
Of course, we saw it coming. Made with rectangular bars, it has a relatively larger surface area. Beside that, there were only 5 bars, and they were the thinnest amongst the products we reviewed. Even with all of these features, the grate was pretty sturdy. We looked around for flaws in the welding joints and even took turns standing on it to try to weaken the joints, but it remained intact.
The Hi-Flame Log Grate Heavy Duty Solid Steel features no ember retainer. So, there's no chance of using coal or similar fuel on it. Also, you may have to take measures to keep the burning cinders in place.
There's only about 2 inches of clearance above ground, which didn't do too much for the combustion. If the clearance from the ground was higher, it would have made cleaning much easier. But then, since it was easy for us to lift it and move it around, you can readily lift it to clean it.
This fireplace grate has the V-shape like many of the rest. Thankfully, the bars were acutely angled, so they kept burning logs from rolling pretty well. If we worked with more logs, we are sure it would have taken more than expected.
Pros
Durable build
V-shaped for safety and maximizing space
Budget-friendly
Portable
Cons
The heating could be better if the bars had a cross-sectional shape with a lower surface area.
No ember retainer
The Amagabeli Garden & Home Fire Grate stands out for two reasons: it is the only wrought iron fireplace grate in our review and the only round one.
Being a wrought iron fireplace grate, it offers a very high level of durability compared to cast iron and steel fireplace grates. It would withstand heat to a very high degree. So, you can burn wood and coal on it. Then its high level of malleability means it will not readily cave in under pressure.
Of course, we did a visual assessment of the welding joints, and they were okay. Then we tested out the integrity of the joints and the malleability of the fireplace grate as a whole by standing on it, and it came out undamaged.
When it came to heating, it was above standard. But we think it would be even better in outdoor fire pits. We expect that the insulation of the fire pit will promote heat retention. Already, the twelves pieces of 0.7-inch thick bars contributed to the heat retention and heating efficiency. But with the insulation of an outdoor fire pit, those indices should intensify.
The Amagabeli Garden & Home Fire Grate stands with a clearance of 3.3 inches above the ground, which is pretty good for air ventilation and easy cleaning.
This grate also uses V-shaped bars but in a stellar pattern. While this pattern also helps maximize space and keeps burning firewood from rolling away, it does so in way different from the rectangular-shaped fireplace grates.
Measuring 24 inches in length and width, and 7.33 inches in height, this should fit into most standard size fireplaces. Then at about just 21 pounds, there shouldn't be any significant constraint moving it around.
While the material of this fireplace grate does well with coal as fuel, the grate doesn't have an ember retainer. Of course, without one, the chances of using coal on it are pretty low.
Pros
Highly durable and malleable
Suited for round outdoor fire pits
Efficient heating and high heat retention
V-shaped bars for maximizing space and keeping woods in place.
Cons
Doesn't have ember retainer.
Buying Guide
Size
Like fireplaces, fireplace grates come in various sizes. As such, it is important to pay attention to the size of the fireplace grate you intend to buy.
When buying a fireplace grate, do not opt for a grate that has the same dimensions as your fireplace; size down by at least 3 inches. In other words, if your fireplace is 25 x 13 x 7 inches, your fireplace grate should be at most 22 x 10 x 4 inches.
Getting a fireplace grate without sufficient clearance on all sides is potentially dangerous. That aside, such fireplace grate would be hard to install.
Material
If you are looking to use wood and coal as fuel on your fireplace grate, you should be looking out for a wrought iron or cast iron grate. But if you are okay with burning only wood, then a steel fireplace grate should be fine.
When it comes to corrosion resistance, steel fireplace log grates usually give the best results. But when coated or painted correctly and with quality material, cast iron and wrought iron grates would also do well.
Number of Bars
Generally, with more bars, your fireplace grate will retain heat longer. Of course, this means that the grate can heat your home/environment for longer while consuming less fuel.
In other words, higher number of bars promote heat retention. Heat retention, in turn, raises heating efficiency.
Bar Shape
The shape of the bars of a fireplace grate determines its surface area, and with larger surface area comes faster heat loss. So, to ensure that your grate retains heat for long periods, opt for bars with smaller surface areas.
Round bars and hexagonal bars with equal sides typically have smaller surface areas relative to other bar shapes of the same thickness.
Weight
Depending on how often you'll move the fireplace grate around, you may want to pay attention to its weight. Surely, if you'll move the grate around pretty often, getting something light would be better. But if the grate would mostly be in one position, then the weight wouldn't really be a problem.
Frequently Asked Questions (FAQs)
What is a Lifetime Fireplace Grate?
A lifetime fireplace grate is a grate that comes with a lifetime warranty. They typically stay in top condition for a long time. Hence, the lengthy warranty.
What is a Zero Clearance Fireplace Grate?
A zero clearance fireplace grate offers very little clearance between it and the hearth. The upside to this is efficient fuel consumption and heating.
Can I Use a Fireplace Without a Grate?
You might be able to use a fireplace without a grate if doing so aligns with the manufacturer's recommendations.