Grilling season is quickly approaching and there are so many options other than the traditional hot dogs and burgers. Don't waste your grill on the "blah" foods that are found at every back yard soiree.
Visiting a BBQ style restaurant may give you a touch of interest when it comes to cooking smoked meats. Don't let preparation and cost intimate you into sticking to your old faithful foods. Even if you're a beginner at smoking meats, many ways to achieve a smoked flavor in your food by utilizing your smoker or even your grill.
When it comes to smoking meats, vegetables or even pizzas; a smoker is ideal but not necessary. If you are just tip toeing the line of smoked foods and do not want to leap into the costly investment of a smoker, purchase a smoke box for grill or make a simple DIY smoke packet instead.
Why you should add wood chips in your smoker
Wood chips are small pieces of wood that will ignite instantaneously. Because of this fast ignition these are ideal for cooling simplistic meats such as steaks, fish or chicken. They will add flavor and produce a smoked taste to the final product but will not make you wait all night for your dinner.
If you plan on smoking a large piece of meat such as a brisket then you will want to utilize wood chunks. This is because those types of meat cuts will take six or more hours to smoke. You will want to add wood chips to your smoker if you notice your food is not cooking in as quickly as it should. You'll also want to add more wood chips if you notice the quality of the smoke is poor or if you underestimated the size of the piece of meat you are smoking.
Different types of wood chips available
When it comes to smoking meats and poultry there are many wood chip varieties available to meet whatever taste standard you are trying to achieve. The fruit trees are the ones that are commonly used for poultry and fish because they are lighter and easily soak up the smoke enhanced flavor. The best fruit tree varieties for these types of meats include peach, cherry, apple and pear. These infuse the meats with a lighter and sweeter flavor.
When you are cooking salmon birch is a good wood chip choice to use in the smoker. Maple, pecan, hickory and oak are ideal for any type of pork. It does not matter if you are smoking tenderloin or pork chops, these woods will add depth and flavor to all pork varieties. These also suffice nicely for game meats.
Mesquite is one of the most popular wood chip smoker varieties. If you have eaten at a BBQ restaurant you most likely have sampled meats smoked in mesquite. This is a strong wood that should be used sparingly. It smokes best for beef and you want to mix it with other woods to avoid an over powering smoky taste. You do want your guests to enjoy the meat you prepared and actually taste the flavor in the meat and not only the mesquite smoke.
Should you soak your wood chips?
There is no need to soak your wood chips. When you soak your wood chips they actually can produce an adverse effect and result in longer smoking times. The water must evaporate from the wood chips before the meat can begin absorbing the smoking process.
Many people who are avid smokers will say that soaking the chips is the best course of action. This is because of the burn off theory. Dry chips will burn quicker and release less smoke. This translates to a less smoke enhanced meat. Soaked chips will take longer to ignite and will release a savory smoke that will last for quite a while. The best way to decide which is best for you is to try both methods and see which one you prefer.
What is a Smoker Box used for?
If you are new to smoking foods and are not ready to make the investment towards a true smoker then you can purchase a smoke box. Smoke boxes can be found online at your favorite retailer that sells grilling supplies or at your local big box and home supply stores. Smoke boxes are inexpensive ways to introduce yourself to cooking with smoke. These metal boxes can be filled with wood chips and added directly to a standard grill.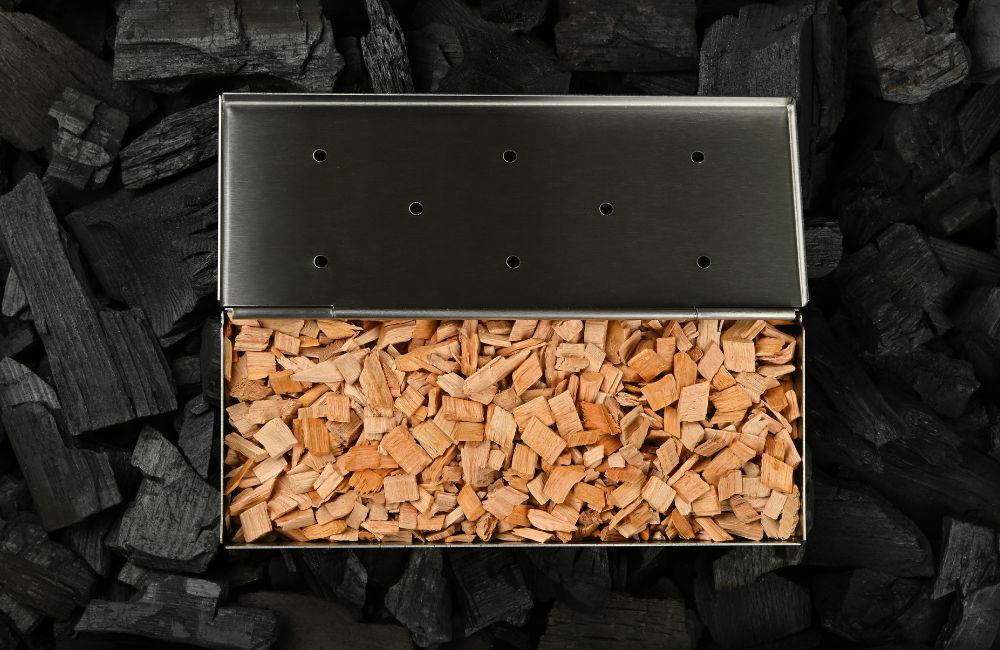 How to use a Smoker Box
The smoker box is a small rectangular metal box. Simply place it on the grill. Allow the metal smoker box a few minutes on the grill to heat up. Use metal tongs to carefully remove the lid to the smoke box. Fill the smoke box to cover the bottom layer with wood chips. Use the metal tongs to give the box a shake on the grill. Close the lid of the grill to ignite the wood chips. Once the chips are ignited utilize the tongs to replace the lid to the smoke box. This will extinguish the flames but produce a smoke that will fill the grill and enhance the flavor the meats being cooked directly on the grill.
If you are completely new to smoking meat and want to try it before even purchasing a smoker box, you can create your own smoker box with foil. Simply make a foil packet and fill it with wood chips. Poke some holes in it to release the smoke. This is a great way to experiment and determine whether you enjoy smoked meats and veggies or not.
How to use wood chips to get the best results
When it comes to using wood chips for the best results there are a few things to remember. First you must consider the type of meat you are preparing. This will help you to determine whether you need a light and sweet wood such as peach or a stronger more aromatic wood like pecan. If you are preparing a brisket for a large get together you'll want to use mesquite and possibly blend it with a lighter wood like apple or pear. These woods all offer special flavor traits that will enhance the type of meat you are smoking.
Smoking meat is a trial and error job. Finding what you like most is key so plan for a weekend of grilling and try soaked chips, dry chips and different types of wood chips. Experiment with chicken, poultry, game, pork and beef. Keep a log of your favorite meats and woods so you can begin to create lasting smoked meat recipes.